Panels can backfill three feet.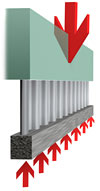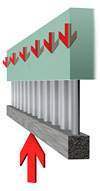 a stout grade beam spreads out
concentrated forces from above or below
Be Secure:

The Anchorpanel permanent perimeter foundation takes care of all wind anchoring, seismic bracing, and even flood requirements (see TECHNICAL). It meets engineering requirements for all building codes in the US, and therefore for all the lenders as well.


A continuous line of lag-screw attachment stoutly anchors the home to the foundation along exterior wall lines, providing a much better connection to the home than typical steel floor beams have; these beams being the point of attachment in common tie-down and pier-brace systems. In other words, with Anchorpanel your home is braced in the same sensible manner as site-built homes are, except that Anchorpanel is many times stronger and better attached than a plywood-sheared wall is.

The Anchorpanel system uses the perimeter enclosure, which is requires anyway, both to brace the home against disasters and to support the building perimeter. In combination with the concrete footing below and the attachment to the home above, the Anchorpanel perimeter serves as a deep I-beam that can distribute concentrated loads, minimizing uneven settlement.