Panel Installation Summary:
(Please see "Technology" section for more specifics and detail)

Panels can be hung from most any type of a guide element, just so that they are positioned for permanent casting into concrete. The most efficient guide is going to be the perimeter of the building itself, which will need to be permanently attached to the panels anyway. The panels just follow the perimeter footprint, whatever it is. When a panel reaches a building corner, it is then modified to simply "wrap" around it and keep going down the next building line.
Panels are made to the lengths that you need, to the nearest four-inch increment. For sloping sites, just provide the distance down to the trench at building corners etc, and our software figures out all the required lengths of panels, and provides a layout diagram for their installation. Crawlspace vents in the panels can be provided per your request.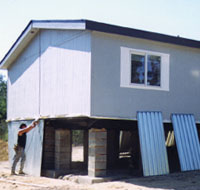 A layout diagram shows where different length panels go.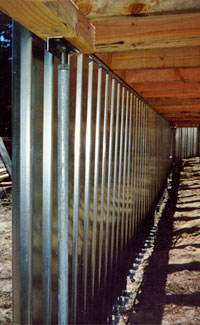 Panels hung and ready for concrete.
After the panels and rebar are positioned, concrete can go into the footing trench. If an inspection is required first, this opportunity allows everything to be inspected, because everything relevant is visible at this time. If concrete is to be pumped in, that process takes about an hour. Where there is access on only one side of the panels, a concrete pump is essential. The concrete is pumped intermittently to the inside and then outside of each panel, all along the trench. Typically the panels are checked and set plumb as required while the concrete is setting up.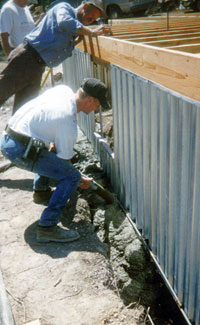 Two-story footing concrete going in.